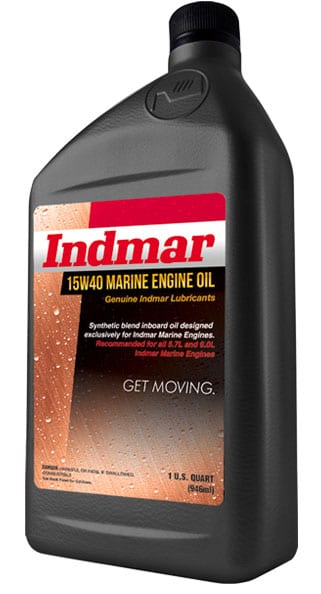 15W40 Marine Engine Oil
Recommended for all 5.7L and 6.0L Indmar Marine Engines
Indmar 15W-40 high performance marine engine oil is a premium quality heavy-duty multi-grade oil for all-season use in diesel-powered or a mix of gasoline and diesel-powered equipment. Indmar 15W-40 is leading the way in meeting the enhanced oil requirements of API CJ-4 and leading OEM specifications by formulating with Group II base oils and the latest chemistry available.
• Protects against excessive wear and corrosion
• Controls soot deposits and oil thickening
• Preserve power, fuel economy and emission control
• Speed cold starts
• Longer maintenance intervals
5W30 SYNTHETIC BLEND MARINE ENGINE OIL
Recommended for 400 and 440 Raptor by Indmar Engines
Indmar 5W-30 Synthetic Blend Motor Oil is formulated from premium synthetic blend base stocks and CleanGuardTM additive technology to deliver trusted engine protection and peak performance.
CleanGuardTM is a state-of-the-art additive system that contains active cleaning agents that keeps engines running at ideal conditions. Indmar 5W-30  Synthetic Blend Motor Oil provides added resistance to sludge formation and varnish deposits during stop-and-go driving and maintains outstanding wear protection under severe driving conditions. Indmar 5W-30 Synthetic Blend Motor Oil exceeds warranty requirements as defined by ILSAC standards GF-5 and API classification Resource Conserving SN.
ENGINE BENEFITS
•  Excellent wear protection for critical engine components
•  Optimum fuel economy
•  Delivers excellent low-temperature performance
•  Maintains maximum engine protection under severe conditions
•  Protects vehicle emission systems
PRODUCT FEATURES
• Exceeds ILSAC GF-5 and API Resource Conserving SN performance standards
• Formulated with premium synthetic-blend base stocks for added resistance to thermal breakdown
• Improved oxidation stability and volatility properties reduce oil consumption between services
• CleanGuardTM technology maintains engine cleanliness and protects against sludge and piston deposits
15W50 ADVANCED FULL SYNTHETIC MARINE OIL
Recommended for 575 ROUSHCHARGED Raptor by Indmar Engines
Indmar 15W-50 Motor Oil is formulated with an extra-high viscosity synthetic fluid, plus extra anti-wear additive to provide extra protection for severe service applications.
This motor oil is recommended for high performance engines including turbocharged and supercharged engines where a thicker oil film is desired.
Indmar 15W-50 is also recommended for older valve train designs that may benefit from a higher level of anti-wear normally not required for newer generation engines. It will also provide better anti-wear protection for higher valve spring tensions in certain high performance engines.
ENGINE BENEFITS
•  Keeps engine running like new
•  Combats sludge and deposits
•  Reduced wear
•  Controls oil breakdown
•  Superior performance and protection
GENUINE INDMAR SERVICE PRODCUCTS
Genuine Indmar service products are crafted with the same world-class standards and developed through the same performance and durability testing as your Indmar Marine Engine.  Protect and optimize the performance of your Indmar with service products that were engineered specifically for it.
Unlike some oils and chemicals that are based on automotive products, genuine Indmar oils, filters, lubricants and vital fluids are inboard specific products designed to meet the unique needs of tow boats and watersports enthusiasts. They were established to meet the higher demands of inboard marine engines.
Compared to cars, towsport specific inboard marine engines produce more low end torque per displacement at lower rpms and have different cooling systems than that of an automobile.
Everything that Indmar offers from propylene glycol anti-freeze, transmission fluid, synthetic oil, blended oils, filters, fuel treatment and other vital fluids is formulated to be the very best inboard marine engine products you can buy. Available at your local authorized Indmar dealer.