An Indmar filter captures 45 percent more dirt and lasts 30 percent longer than a leading national automotive brand.
Filter quality and performance is the foundation of maintaining your engines fuel economy and overall health.
Indmar's oil filters advanced construction increase the engines life and efficiency, offering the best protection and performance for your Indmar Marine Engine.
OIL FILTER 872024
Recommended for all 6.0L & 6.2L Indmar Marine Engines above S/N 164786
OIL FILTER 872023
Recommended for all 5.7L & GM based 6.0L & 6.2L below S/N 174786
OIL FILTER 87025
Recommended for all 6.2L Ford based engines with spin-on oil filters
OIL CARTRIDGE 501022S
Recommended for all 6.2L Ford based engines with cartridge-style oil filters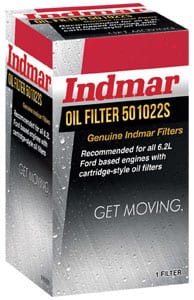 WATER/FUEL SEPARATOR
636127 Recommended for all 6.2L Ford based engines with spin-on Fuel H2O separating fuel filters.
GENUINE INDMAR SERVICE PRODUCTS
Genuine Indmar service products are crafted with the same world-class standards and developed through the same performance and durability testing as your Indmar Marine Engine.  Protect and optimize the performance of your Indmar with service products that were engineered specifically for it.
Unlike some oils and chemicals that are based on automotive products, genuine Indmar oils, filters, lubricants and vital fluids are inboard specific products designed to meet the unique needs of tow boats and watersports enthusiasts. They were established to meet the higher demands of inboard marine engines.
Compared to cars, towsport specific inboard marine engines produce more low end torque per displacement at lower rpms and have different cooling systems than that of an automobile.
Everything that Indmar offers from propylene glycol anti-freeze, transmission fluid, synthetic oil, blended oils, filters, fuel treatment and other vital fluids is formulated to be the very best inboard marine engine products you can buy. Available at your local authorized Indmar dealer.